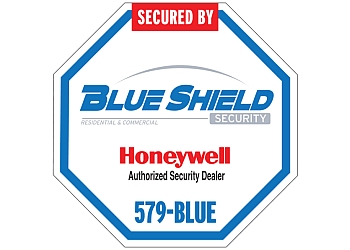 BLUE SHIELD SECURITY
Below are the 2 packages we would offer through APlus Preferred Partnership program
with exclusivity for Blue Shield Security.
Option A: 42 month monitoring agreement required at $34.99 plus HST per month.
Free installation of a wireless Honeywell touch screen alarm system.

Equipment includes:

One (1) Honeywell touch screen key pad with voice commands.

Emerg. duress buttons for police, fire, & medical emergency

Three (3) door/window contact sensors

Two (2) IR pet immune motion detectors

One (1) monitored smoke & heat detector.

Built in low temperature sensor that would prevent pipes from freezing & busting should heat source fails.

One (1) Master alarm control panel with back up battery in case of power failure.

One (1) Intrusion siren

One (1) 9volt transformer plug

Complimentary professional licensed install

24 HR ULC listed alarm monitoring for intrusion, smoke/heat, low temp, police, fire, & medical emergency

Certificate of install for insurance reduction

Signage for property to deter intruders
Option B: Includes everything listed in Option A with a 60 month monitoring agreement @ $29.99 plus HST per month.
Note: Systems can be upgraded for additional options for remote control off site from Smart phones, tablets, computers etc.,
though our exclusive Honeywell Total Connect App.
Heat & light control - Video monitoring ...and much more.
* Additional rates would apply
10 Pippy Place, Suite 202
St. John's, NL
(709) 579 2583 (BLUE)
Check us out on:
Share This Page On: