Check out all the events and stories of things happening at APlus Group of Companies.
APlus Family Day 2019
June 26, 2019 | Posted by:
On July 13, 2019, APlus Mortgage Group & APlus Insurance Financial Group will be hosting our 5th Annual APlus Family Fun Day fundraiser taking place at Pippy Park. It is fundraisers like these that enable us to help the Canadian Cancer Society's local Daffodil Place.
Daffodil Place is a 24-room facility operated by the Canadian Cancer Society Newfoundland and Labrador Division to provide a place to stay for cancer patients and caregivers who must travel to St. John's to receive cancer treatments. Daffodil Place also provides flights, rides to and from treatments, Wigs, blankets, hats etc. free of charge for people undergoing treatment in Newfoundland and Labrador.
Please bring a friend and join us for an exciting afternoon
Silent Auction (All Proceeds go to Daffodil Place)
50/50 Draw (All Proceeds go to Daffodil Place)
Bouncy Castles
Balloon Twisters
Face Painting
Games hosted by the staff of Get Air
BBQ hot dogs, burgers, chips, cake, popcorn and more
Family Photos
Newfoundland Dogs
Prizes and More
Special Guest – Chase from Paw Patrol and Peppa Pig
For Clients and their family please come find me at the registration desk to get your stamp. As Clients also get to enjoy the BBQ for FREE.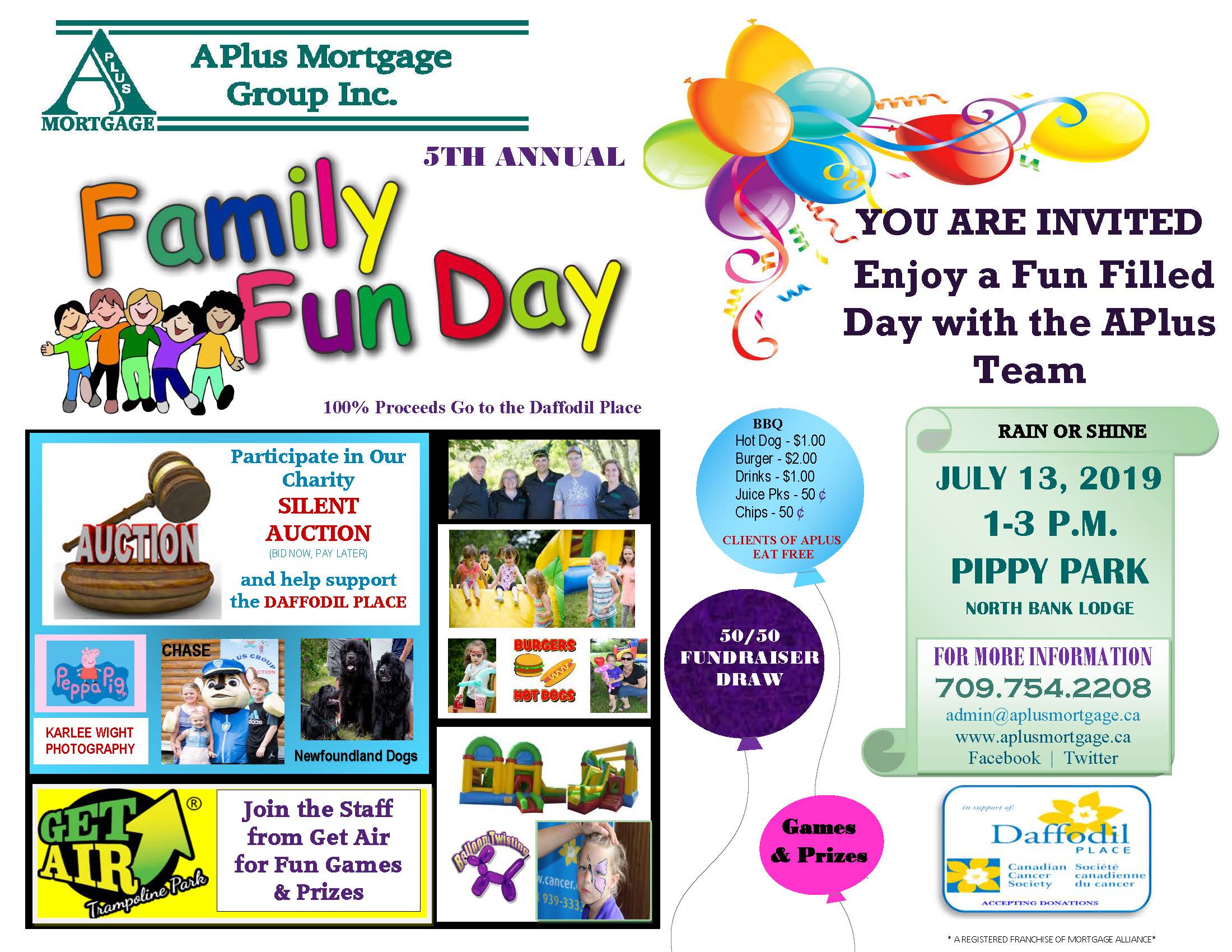 Looking forward to seeing you there. sherry@aplusmortgage.ca or (709) 754-6507
Share This Page On: